Sample Menus
Though our three menus change very often, one thing is always remains true:
Organic. Sustainable. Farm Friendly. Scandinavian.
We make everything from scratch.
See sample menus below. Click on Bakery, Brunch Board, Lunch or Breakfast to see sub menus.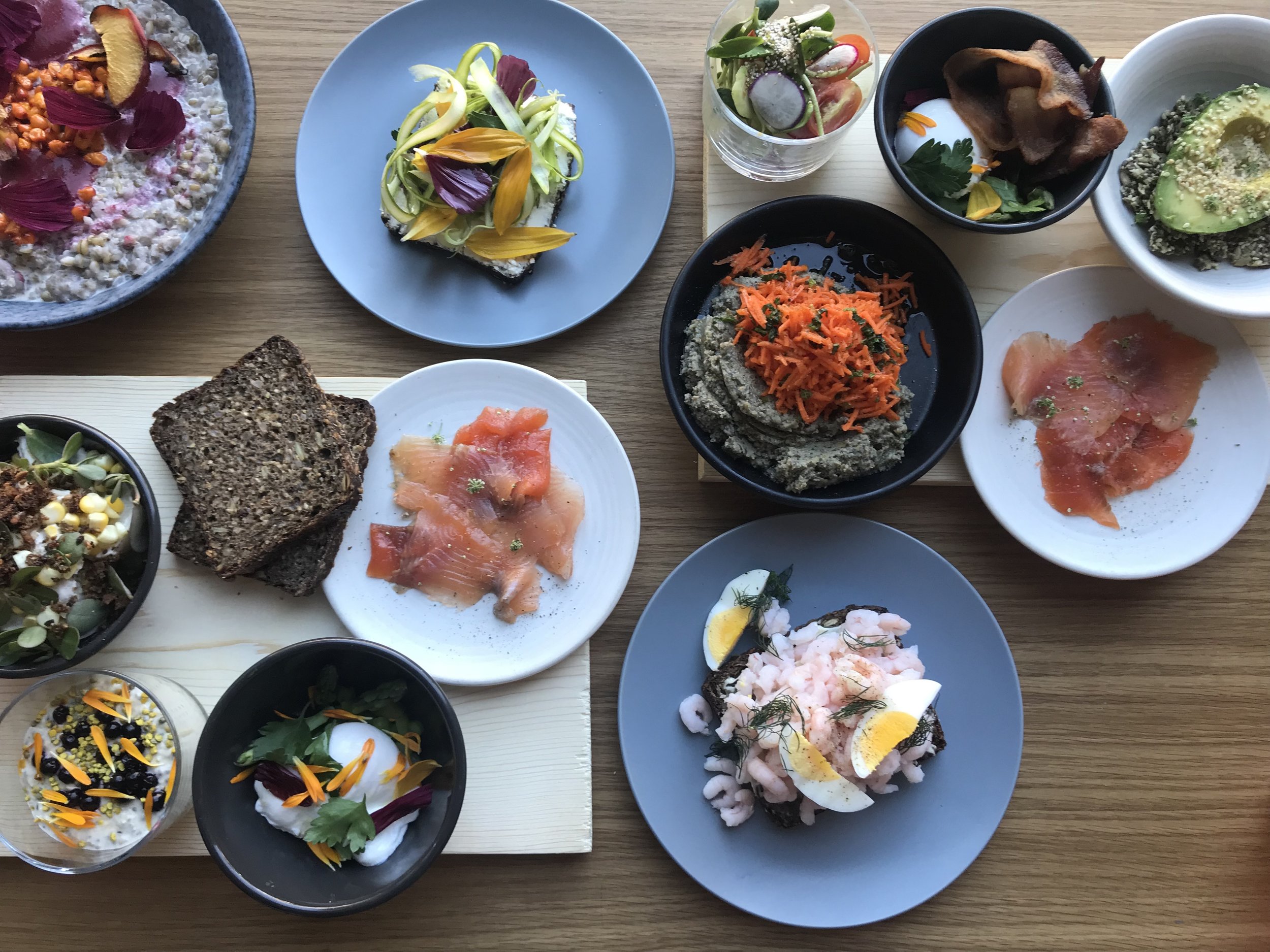 The full Copenhagen experience. Only get what you want. 7 small dishes: It could be Kantine's Sprouted Rye Bread, a runny organic egg in creamy spinach, trout salad, signature spiced bacon, hot rye porridge, housemade skyr yogurt, and sweet watermelon with tarragon & mint. You choose your own items from our brunch board menu which changes daily (brunch boards are only served in the restaurant - no take-out).
The "Tebirkes" is the perfect danish: This flaky pastry is a delicious classic from Denmark covered in crunchy poppy seeds on top and with a sweet and delicious almond filling inside. Have a freshly baked tebirkes with a smooth cup of morning coffee from Heart Roasters, or bring a bag to the office for an afternoon snack.
Porridge can be incredibly delicious. Kantine's savory porridge comes with kale, mushrooms and our farmers cheese, and if you feel up for it you can add a runny egg and bacon - a favorite for both breakfast and lunch.
Our sweet and savory baked goods selection changes daily. Kantine's housemade breads are (almost) always available and can be pre-ordered for pick-up here: https://squareup.com/store/kantine
$

4.50
Tebirkes
poppy seed and almond danish
$

4
Grovbirkes
the savory seedy sister to the tebirkes
$

4.50
Seasonal Fruit Danish
$

6.75
Kantine's Sprouted Rye Bread, loaf
$

4
Crispy Rye Crackers (12)
baked with olive oil and sea salt
$

3.50
Swedish Crispbreads (2)
with caraway and fennel
$

1.50
Danish Butter Cookies
$

2
Kolasnittar
caramel shortbread
$

1.50
Scandi Gingerbread Cookies
Build your own brunch board, every day 9am - 2:30pm
☐ Danish sprouted rye bread (2 slices)
☐ Swedish rye crispbread (1 each) v
☐ Crispy rye crackers (4 each)
☐ Porridge sourdough bread (1 slice) v
☐ Toasted 100% rye bread, carrot, sunflower (2 slices) v
☐ Runny organic egg, creamy spinach gf
☐ Soft scrambled organic eggs, chopped herbs gf
☐ Curried herring, capers, apple gf
$

3
☐ McFarland smoked trout salad, pickled red onion, dill gf +
☐ Kantine's spiced bacon gf
☐ Lamb meatballs, remoulade gf
☐ Danish Havarti cheese gf
☐ Hay smoked fresh cheese, radish, cherry tomatoes, caraway gf
☐ Warm rye porridge, fig jam, cream
☐ Melon, mint tarragon sugar gf
☐ Broccoli sunflower hummus, puffed amaranth gf
☐ Housemade yogurt, rye granola, berries
☐ Smoked potato salad, dill cream, radish gf
gf=made without ingredients that contain gluten
v=vegan
Open-faced sandwiches on our housemade sprouted rye bread, delicious porridges & salad 9am - 2:30pm.
Smørrebrød - order 1 as a light meal, order 2 as a full meal.
$

11
Open-faced smoked mackerel sandwich, fresh fennel, red potatoes
$

12
Open-faced hard-boiled egg and pink shrimp sandwich, mayo, dill
$

9
Open-faced vine tomato sandwich, farmers cheese, roasted peppers, herbs
$

12
Open-faced roast chicken salad, kale pesto, hazelnuts
$

12
Sweet Porridge
poached peaches, beaten strawberries and cream
$

13
Savory Porridge
exotic mushrooms, kale and our own farmers cheese
$

15
Savory Porridge with organic runny egg
$

15
Savory Porridge with bacon bits
$

17
Savory Porridge with both organic runny egg and bacon bits
$

13
Our Daily Salad
organic market greens, kale, smoked chicken, shaved melon and cukes, goat cheese, rye croutons
$

15
Daily Salad with organic hard-boiled egg
Best start of the day - weekdays 7:30am - 2:30pm
$

7
Housemade Organic Yogurt
melon, sea buckthorn, honey-roasted rye and oat granola
$

12
Sweet Porridge
poached peaches, beaten strawberries and cream
$

13
Savory Porridge
exotic mushrooms, kale and our own farmers cheese
$

15
Savory Porridge with organic runny egg
$

15
Savory Porridge with bacon bits
$

17
Savory Porridge with both organic runny egg and bacon bits
$

9
Simple Breakfast
fried organic egg, bacon, Danish sprouted rye bread, butter
$

11.50
Simple Breakfast with an extra egg
$

10
Brekkie Sandwich
scrambled organic egg on a grovbirkes, with applewood smoked ham OR havarti
$

13
Brekkie sandwich with both ham AND havarti